1.
Thomas Gottlieb ENGELHORN
(First child of
Johann Thomas ENGELHORN III
) was born 3 Oct 1827 in Altlussheim, Germany. He died 15 Sep 1907 in Dunsmuir, California and was buried in Dunsmuir.

Gottlieb came to Pennsylvania in 1847 and was the first of the Altlussheim Engelhorns to come to America.
Thomas Gottlieb was a carpenter and contractor. He lived in Marietta, Pennsylvania until 1855 when he moved to Lansing, Iowa, where he bought property on 23 Jun 1856.
Gottlieb married Jane VAUGHN, daughter of Samuel VAUGHN and Catherine GLENDENNEN, on 24 Mar 1850 in Marietta, Pennsylvania. Jane was born 28 Nov 1829 in Lancaster county, Pennsylvania. She died 11 Aug 1920 in Albany, Oregon and was buried 16 Aug 1920 in The Dalles, Oregon.
The couple lived for 13 years in Orleans, Nebraska, from 1874 - 1887. Gottlieb and Jane paid final receiver's receipt of $4.00 on a 160 acre homestead in Harlan county, Nebraska, October 27, 1884.
The property was sold on 10 April, 1884 to William B. and Katie Beem, his daughter and son-in-law. In August of the same year the Beems sold the property back to Jane Engelhorn. Jane and Gottlieb sold the homestead to Mary Ann Frey on the 18th of August, 1892. In the summer of 1893 they were in Oregon, according to granddaughter Winnifred Ohling who had gone to Albany to help her grandparents during harvest. Winnie and her "grandmother cooked for a threshing crew which worked all the way from Shedd into areas which are now in Albany city limits."
They were in Denver from 1887 to 1901 where they celebrated their 50th wedding anniversary and then moved to Dunsmuir, California in 1901. Read the story of the 50th anniversary party.

Gottlieb built the "Old Stone School" in Lansing, Iowa, now a national historic site. The building was completed in 1864 and presented to the first board of directors of Independent School District No. 1 on July 2, 1864. This school was used continuously for 108 years, the longest of any school in Iowa and in the Midwest, west of the Mississippi River. "On May 4 1863, the [school] board voted to purchase the lot next east of the old schoolhouse lot for the sum of $225, and proceed to build a stone schoolhouse thereon, the main building 40x56 feet. On June 5 the contract was let to Gottlieb Engelhorn and Valentine Beissell." Gottlieb was also responsible for the hotel in Altoona, Iowa, northeast of Des Moines.
Winnifred Ohling recalled that Thomas was working in Denver in 1891 at the smelter doing repair work one Sunday morning, just to finish up. "Not knowing he was there they started to let the load down without warning; saw him just in time to prevent cutting off both legs 'tho they were shattered below the knees." He was crippled the rest of his life; "That is why they moved to Dunsmuir, California, I guess; their daughter Catherine lived there."
According to his obituary, he was helping build a barn on the farm of his son-in-law W.B. Beem, when he accidentally let a scantling fall on the big toe of his left foot. The injury caused blood poisoning which aggravated his chronic asthma, from which he died.
They had nine children:
4
M
iii.
William C. Thomas ENGELHORN
was born 25 Apr 1855 in Lansing, Iowa. He died after Jun 1877.
A web site for the Friends of the Little Big Horn lists William T. Englehorn at the battle of the Rosebud in the Sioux Wars, 17 June 1876. William enlisted in the Army of the United States at Omaha, Nebraska on 12 March 1875 in the 3rd Regiment of Cavalry; Company E, 2nd Cavalry, Wyoming Column. He lied about his age, solemnly swearing that he was 21 years old, when his age was actually 19 years, 10 months and 15 days. His enlistment was for 5 years.
The Register of Enlistments, US Army, reported that William deserted 2 March 1877. No more information has been located, so his death and whereabouts since June 1876 remain unknown. William was 5' 7.5 " tall with light brown eyes and brown hair.
6
M
v.
Samuel Herman ENGELHORN was born 12 Jan 1859 in Lansing, Iowa. He died 22 Feb 1859 in Lansing.
10
M
ix.
George Washington ENGELHORN
was born 18 Jan 1869 in Lansing, Iowa. He died 11 Nov 1938 in Orofino, Idaho and was buried 15 Nov 1938 in Pierce, Idaho.
George was a trapper, packer, and guide in the Clearwater, Idaho, area and lived in Pierce, Idaho. He started trapping in 1906 and trapped around Cook Mountain and in the head of Cayuse Creek. He also worked for the Forest Service during the summers for many years. George had a number of cabins: McGerry, Camp George, Saddle Camp, Mouth of Fourth of July and others. A number of creeks and other features took their names from early settlers near the Forest boundary; Camp George near the head of Camp Creek was named by the Forest Service for George Engelhorn.
He may have been in the "liquor trade;" "as many up there were, just to exist." He existed at his job and drank up all his earnings according to a neighbor.
George was apparently quite a "shady" character, although in the Clearwater Tribune of 23 Nov, 1923, said on the occasion of his marriage, "The groom is well and favorably known in and around Pierce where he has resided for many years." And, his obituary reported that he was highly respected and there was a large attendance of friends at his funeral.
George married Flora HUTCHISON, daughter of William HUTCHISON and Elizabeth KIRK, on 16 Nov 1923 in Peck, Nez Perce, Idaho. Flora was born 1873 in Prince Edward Island, Canada. She died 27 Oct 1925 in Pierce, Idaho and was buried 29 Oct 1925 in Pierce, Idaho.
Flora made her home in Pierce since girlhood. She had been married prior to her marriage to George. Her death was a suicide caused by severing the windpipe with a butcher knife. She had recently returned from the hospital and was in poor health and despondent. She left a daughter, Agnes Brown, and three grandchildren.
2.
Anna Catharine ENGELHORN
"Annie" (
Thomas Gottlieb
) was born 22 Jul 1852 in Marietta, Pennsylvania. She died 19 Jan 1927 in Trinidad, Colorado and was buried 22 Jan 1927 in Trinidad, Colorado.
Annie married (1) Frederick Wilhelm August SCHULZE, son of Ludwig Wilhelm Friedrich SCHULZE and Sophie Marie Dorothea KURZ, on 25 Jul 1867 in Lansing, Iowa. Frederick was born 12 Sep 1840 in Lenzen, Brandenberg, Prussia, Germany. He died 16 Apr 1884 in Lansing, Iowa.
Frederick W. Schulze emigrated with his parents to America and Iowa. He served in Co. B, 27th Infantry Regiment, Iowa Volunteers from 9 August 1862 until 8 August, 1865. He was wounded in the war and claimed disability benefits for his injuries. On or about the 18 of May, 1864 at Yellow Bayou in Louisiana he was struck by a piece of a shell which disarmed him and broke one of his ribs on the left side causing a bad bruise. "He was not treated for said injury which has since caused him much trouble." Further injury was caused on the 5th of November, 1864 near Glasgow, Missouri while on the march when he was struck over the head three times with a gun by his comrade in his rear. This has "caused a running sore on his head and has been the cause of much pain and loss of memory." He apparently was never well because of his Civil War service injuries.
He was a teamster in Lansing in the 1870 census. In that time all goods were hauled by the railroads as freight or express, or by river transport, and were set off at the local depot. There would be a teamster or drayman who would contract with the merchants to pick up such items and deliver them to the stores and places of business. In 1880 the US census for Iowa listed his occupation as sawmill worker.
Frederick was five feet nine and a half inches tall with blue eyes, brown hair and a florid complexion. Anna applied for a Civil War widow's pension in Orleans, Nebraska on 22 April, 1886.
They had nine children:
14
F
iv.
Janice W. SCHULZE "Jane" was born 17 Jan 1874 in Lansing, Iowa. She died 20 Jul 1875 in Lansing, Iowa.
16
F
vi.
Catherine Adina SCHULZE
was born 6 Mar 1878 in Lansing, Iowa. She died 15 Feb 1958 in Los Angeles, California.
As a child, Catherine lived for a time with her aunt
Catherine Beem
in Harlan county, Nebraska, after her father died and before her mother remarried.
Catherine married
Albert V. MUMMY
in 1905. Albert was born about 1878 in Illinois. They had no children, but raised sister Martha's daughter Jean.
Albert was a charming man from Farmington, Illinois. He was a manager and owner of small dry goods stores and although small, they were quite prosperous.
They lived in Denver and Trinidad, Colorado and Pittsburgh, Kansas (1927). After Albert's death, Catherine moved to Greybull, Wyoming and later to Los Angeles where she made a living at sewing.
Annie also married (2) Frank Howard GOLLY on 17 Dec 1887 in Orleans, Nebraska. Frank was born Feb 1859 in Illinois. He died 22 Aug 1925 in Trinidad, Colorado and was buried 23 Aug 1925 in Trinidad, Colorado.
In February, 1894, Anna and Frank bought town lots in Orleans from her sister and brother-in-law Kate and William Beem. In 1897 the lots were sold and they moved to Zearing, Iowa, where in 1900 he was a stone mason. In 1910 he was a stone mason and foreman at the silica mines near Orleans, Nebraska. Frank and Annie moved to Trinidad, Colorado in 1919.
Granddaughter Marcella Schulze Dygert said that Frank Golly was a drinker and was cruel to his Schulze step-children; they left home as soon as they could.
Annie and Frank GOLLY had four children:
20
M
x.
Hugh GOLLY was born Jan 1889 in, Harlan county, Nebraska. He died 26 Apr 1964 and was buried 29 Apr 1964 in Whittier, California.
Hugh married a girl named Lillian _____. They did not have children.
Hugh was working in 1910 as a farm laborer in North Dakota for his aunt and uncle Minnie and Thomas Thompson. Don Belden said that Hugh lost a leg in a farm machinery accident when he was a young man. He worked in the steel mills in Pittsburg, Kansas and then moved to Whittier, California and worked in the steel mills there.
22
M
xii.
George Newton GOLLY "Jack" was born Sep 1893 in Harlan county, Nebraska. He died in 1973. He married Mary Elizabeth FAXTON. and it is believed they had a son named Wayne.
23
F
xiii.
Hazel GOLLY was born Dec 1896 in Harlan county, Nebraska. Hazel married Albert MCNEILL
3.
Lizette Vaughn ENGELHORN
(
Thomas Gottlieb
) was born 2 Jun 1853 in Marietta, Pennsylvania. She died 27 Oct 1920 in The Dalles, Wasco, Oregon and was buried 29 Oct 1920 in The Dalles, Oregon.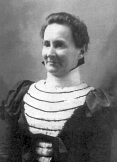 Lizette married Adolph ULRICH, son of Anton and Theresa ULRICH, on 6 Jun 1870 in Lansing, Iowa. Adolph was born 17 Feb 1845 in Oberhanichen, Reichenberg, Austria. He died 22 Apr 1913 in The Dalles, Oregon and was buried 25 Apr 1913 in The Dalles, Oregon.
Lizette Engelhorn Ulrich was active in the Women's Relief Corps.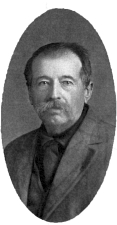 Adolph Ulrich came to America in 1853 (possibly in 1852 to New York) with his father at age 8. They settled first in Milwaukee, Wisconsin, and later moved to Campbellsport, Wisconsin about 1867.
Adolph and Lizette settled in Lansing, Iowa, later moving to La Crosse, Wisconsin in 1881. Adolph came west in 1890 before the rest of the family. He and his oldest son Ben, worked on a ranch in eastern Washington. The rest of the family came to The Dalles by train in 1891.
He was a cigar maker by trade and an amateur inventor. He invented the cigar stamping machine which printed labels on cigars. For a number of years he had a cigar factory in The Dalles. The Ulrichs were capable, but money didn't mean much — they made enough to get by, and then made music and had fun.
Adolph was a man of retiring disposition but counted his friends by the hundreds. His death was due to Bright's disease.
They had six children:
24
M
i.
Benjamin Franklin ULRICH
was born 28 Mar 1871 in Decorah, Iowa. He died 24 Oct 1950 in The Dalles, Oregon and was buried 27 Oct 1950 in The Dalles.
Ben came to the Dalles in about 1891 at the age of 19. He served in the Spanish-American War, in Company L, 2nd Regiment, Oregon Infantry. He joined the army on 30 April 1898 at The Dalles, and was mustered into service at Portland on 15 May 1898. He was mustered out at The Presidio, San Francisco, on 7 Aug 1899.
He was a member of the Veterans of Foreign Wars, the Old Wasco Pioneers association and the Spanish-American Veterans Association.
Ben was a cigar maker. He was 5' 6" tall with a fair complexion, blue eyes and light brown hair.
Benjamin married Olivia Alice ATWOOD. Olivia was born 26 Apr 1886 in Crete, Nebraska. She died 12 Feb 1952 in The Dalles, Wasco, Oregon and was buried in The Dalles, Oregon. She was a member of the Spanish-American War Veterans Auxiliary.
25
M
ii.
Julius Anton ULRICH
was born 8 Oct 1873 in Lansing, Allamakee, Iowa. He died 9 Nov 1949 in Sweet Home, Oregon and was buried 11 Nov 1949 in The Dalles, Oregon.
Julius moved to La Crosse, Wisconsin at age 18 and then to The Dalles in 1891. He did not marry. In Oregon he was a horticulturist and lived at Cascadia, Oregon, from about 1941 until his death.
28
F
v.
Clara Lizette ULRICH
was born 3 Mar 1881 in Guttenburg, Iowa. She died 31 Jan 1966 in Albany, Oregon and was buried 3 Feb 1966 in The Dalles, Oregon.
Clara was not married. She moved to The Dalles from Guttenburg, Iowa in 1891 and to Albany in 1964. In 1910 and 1920 she was in the Eastern Oregon State Hospital for the mentally ill.
29
M
vi.
William Adolph ULRICH was born 25 Apr 1883 in La Crosse, Wisconsin. He died 19 Sep 1951. William did not marry.
5.
Margaret Jane ENGELHORN
(
Thomas Gottlieb
) was born 2 Apr 1857 in Lansing,. She died 31 Aug 1930 in Grandview.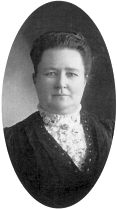 Margaret married John Milne THOMSON, son of George THOMSON and Elspet MILNE, on 10 Mar 1874 in Lansing, Allamakee, Iowa. John was born 15 Jan 1851 in Toronto, Canada. John died 6 Jan 1929 in Grandview, Washington and was buried in Grandview.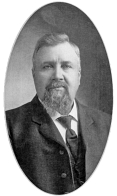 John M. Thomson and Thomas Thompson were brothers although they spelled their name differently. They were sons of a prominent Allamakee county farmer who had immigrated to Iowa with his family from Scotland by way of Canada. John was born in Ontario, Canada, and Thomas was born in Lansing. Thomas married Margaret Jane's sister, Wilhelmina (Minnie).
Margaret and John moved to Churchs Ferry, North Dakota in 1885 where they made their home for 27 years. In 1912 they moved to Grandview, Washington. Margaret was a member of the Grandview Methodist Episcopal Church and a devoted Christian, spending her life doing good for others. She was a loving wife and perfect mother. John Thomson was one of the charter members of the Churchs Ferry Methodist Church
In Allamakee county newspapers; April 9, 1884, "John Thompson, Thos. Bakewell and Louis Hausmann left yesterday for Devils Lake, N.D. with stock and farming tools."
March 27, 1885, "John Thompson left last Wed. for Benson Co, North Dakota with a car load of stock and furniture." John built a frame house at Churchs Ferry, all the other houses were built of sod.
They had nine children:
31
M
ii.
George W. THOMSON was born 3 Jul 1876 in Lansing, Iowa. He died before Sep 1930.
32
M
iii.
Robert L. THOMSON
was born 18 Mar 1878 in Lansing, Iowa. He died 8 Mar 1933 in Minneapolis, Minnesota and was buried in Churchs Ferry, North Dakota.
Robert never married, lived all his life in Churchs Ferry. He died in Minneapolis where he had gone for medical attention and surgery. Burial was in Antioch Cemetery, Churchs Ferry.
34
F
v.
Addie THOMSON was born 27 Nov 1880 in Lansing, Iowa. She died 1880 in Lansing, Iowa.
37
F
viii.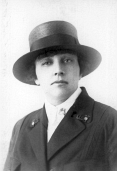 Bernice THOMSON
"Bernie" was born 14 Feb 1890 in Churchs Ferry, North Dakota.
Nicknamed "Bernie", she was a registered nurse and served as a nurse with the Red Cross in France during World War I. In 1920 she was a private family nurse in Grandview, Washington.
Bernie married William BLACKBURN between 1920 and 1930. William was born 1886 in Churchs Ferry, North Dakota.
7.
Wilhelmina ENGELHORN
"Minnie" (
Thomas Gottlieb
) was born 7 Jan 1860 in Lansing, Allamakee, Iowa. She died 10 Aug 1934 in Rolette, North Dakota and was buried Aug 1934 in Lansing, Iowa.
Minnie received her education in the public schools in Lansing. She moved with her family to North Dakota in 1903 where they settled on a farm near Churchs Ferry. Minnie was a devout Christian lady and very active in church and community life. She was happiest when she could be of service to others. "Aunt Minnie was a household word in the community" and a lifelong member of the First Methodist Church. She died of "a stroke of apoplexy and complications of old age."
Minnie married Thomas THOMPSON, son of George THOMSON and Elspet MILNE, on 2 Apr 1878 in Lansing, Allamakee, Iowa. Thomas was born 7 Aug 1856 in Lansing, Allamakee, Iowa. He died 8 Feb 1919 in Rolette, North Dakota and was buried in Lansing, Iowa.
Thomas and family farmed in Allamakee County until 1903 when they moved to Benson county, North Dakota. The move was made to a dryer climate in the hopes of improving daughter Gertrude's health.
Thomas died from gangrene after the starter crank on his Model T kicked back and severely injured his arm, plus complications of inflammatory rheumatism. He had recently been to Banff Springs in Canada for treatments there in the hot springs in hopes of restoring his health. Thomas came from a family of 15 children and grew to be a sturdy and active man with a strong physique. He had an ambitious mind. He was faithful, friendly, loyal and big-hearted; a man who never shirked responsibility. He was a member of Woodmen Lodge in which he held the office of Worthy Advisor. He held the office of Chairman of the Official Board of the First Methodist Church. The Allamakee Journal of 2 October, 1885, reported that Thomas Thompson was named a delegate to a political convention.
They had four children:
40
F
ii.
Minnie Mae THOMSON was born 10 Mar 1880 in Lansing, Iowa. She died 13 Sep 1881 in Lansing, Iowa.
41
M
iii.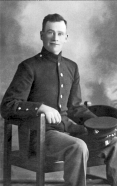 Harvey LeRoy THOMPSON
was born 28 Sep 1886 in Lansing, Iowa. He died 7 Nov 1972 in Canada(?).
Harvey graduated from high school in Leeds, North Dakota in 1904. He went to Canada and joined the Canadian Army during WW I. While there he met and married a Canadian girl named Millie. She was born 18 May 1891 in Canada. She died Jun 1990. There were no children.
Harvey was visiting friends and relatives in Canada when Canada declared war on Germany, so he joined the army while he was there. He contracted malaria in the service and never did actually serve in the war. He worked for the city of Vancouver just prior to retirement, about 1965 or later. As a veteran, he received a homestead tract in Peace River county, near White Law, Alberta, from the Canadian government. He was last known living in Vancouver, Canada.
8.
Mary Emiline ENGELHORN
(
Thomas Gottlieb
) was born 9 Oct 1860 in Lansing, Allamakee, Iowa. She died 27 Jun 1930 in Boise, Idaho and was buried 30 Jun 1930 in Parma, Idaho. Mary died following gall stone surgery.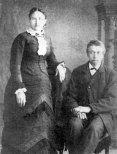 Mary married Johann Adolph GAHLEY, a widower with five children and son of Franz GEHLE and Mary Christina BOEDEKER, on 25 Nov 1879 in Orleans, Nebraska. Johann was born 26 Jan 1838 in Probing, Westfalen, Konigreich, Prussia. He died 2 Feb 1913 in Parma, Idaho and was buried 4 Feb 1913 in Ten Davis, Idaho.
Mary Emiline was helping the midwife at the delivery of Mary Anna Gahley when Mary Anna (Andrews) Gahley (John's wife) died in childbirth. Mary stayed on in the home to care for the baby and the family, and ended up marrying John Gahley.
John came to America with his parent's family, arriving in New Orleans in 1857. From there they traveled up the Mississippi River to Fort Madison, Iowa. In 1871 he moved to Nebraska but was stopped at Salt Creek (now Lincoln) by the U.S. Army on account of hostile Sioux Indians. The family was taken to Dovertown (now Kearney) after hostilities ceased. Later the family moved to Melrose Stockade near the present town of Orleans in Harlan County. John and Anna Andrews Gahley's daughter Christina, was the first white child born in Harlan County, Nebraska.
They farmed 1/2 mile east of Carter in Harlan County until 1909 when John sold their Nebraska property and moved to Idaho, near Tucker Crossing, where they continued farming.
John became a citizen 22 October 1860 at Fort Madison, Iowa, as Johann Gehley, which he changed to John Gahley.
They had ten children:
43
M
i.
Adolph Thomas GAHLEY was born 28 Jul 1880 in Orleans, Nebraska. He died 30 Apr 1881 in Orleans, and was buried in Orleans.
44
M
ii.
Herman Nichlous GAHLEY was born 6 Nov 1881 in Orleans, Nebraska. He died 27 Sep 1882 in Orleans and was buried in Orleans.
46
M
iv.
Edward Joseph GAHLEY was born 20 Jan 1886 in Orleans, Nebraska. He died 7 Jul 1886 in Orleans and was buried in Orleans.
9.
Catherina Henrietta ENGELHORN
"Kate" (
Thomas Gottlieb
) was born 25 Dec 1865 in Lansing, Iowa. She died 20 Dec 1911 in Marysville, California and was buried 22 Dec 1911 in Dunsmuir, California.
Kate married William Benton BEEM "Bill" or "Billie" on 12 Sep 1883. Bill was born 22 Jan 1863 in Iowa. He died 30 Jan 1937 in Oakland, California.
The Beems owned property in the town of Orleans, Nebraska as late as February 1894. The property was later sold to Katie's sister and brother-in-law Anna and Frank Golly. They were in Mott Township, Siskiyou County, California in 1900 and in Dunsmuir in 1910.
Bill's occupation in California was a drayman. Bill is indicated to have been in partnership with a man named Tom Watson in California, from a photograph taken of the two of them at the top of Mt. Shasta in 1903 with Emma Cousins. Bill and Tom had bet $1000 that a horse could carry a person all the way to the top. The photograph, reproduced in the Dunsmuir, California, News, 11 Mar 1965, is marked "Copyright 1903, Watson & Beem." They won their bet after two trips but the horse was said to have become ill and died as a result. The fate of Emma cousins was not given. Census records suggest that Bill remarried after Kate died.
They had three children:
54
F
ii.
Pearl BEEM was born Jan 1890 in Nebraska. She died 28 Aug 1980 in Fresno, California.
Pearl married Ben L. HOAK. Ben was born about 1888. He died 15 Jan 1983 in San Bernardino, California.