Who We Are

The Engelhorn family dates from 1580 in Hockenheim, Germany, where the first record of the name appears as one Markus (Marx) Engelhorn, the Elder, who was a magistrate in a lower court and founder of an inn, "The Silberne Kanne" (The Silver Tankard.) All the families who carry the name (sometimes Englehorn) can trace their lineage to this man. One of his descendants was Johann Marcus Engelhorn II, 1782-1869, of Altlussheim, Germany.
A number of Johann Marcus's children and grandchildren emigrated to America between 1847 and 1866. They all gravitated to Allamakee County, Iowa and most of us in the United States can trace our ancestry to Johann Marcus II. Additionally, Johann Peter Engelhorn (1842-1925) of Neulussheim, who was a cousin of Johann Marcus II, also emigrated to America. Johann Peter settled in Logan County, Illinois, and his descendants are also included in our family.
For convenience of study and understanding relationships, we have divided our known family into four lines descended from the emigrant children of Johann Marcus II plus a fifth line consisting of the descendants of Johann Peter. The family tree pages and ancestor album which follow give our genealogy in more detail.
The genealogy presented in these web pages is condensed from The Engelhorn Family by James A. Englehorn (Gateway Press, 1997.) Much of the family history in Germany is from Alte Mannheimer Familien, Schriften der Familien-geschichtlichen Veringung Mannheim, pp. 37-67. Herausgeber, Dr. Florian Waldeck, Sechster Teil, Mannheim, 1925; English translation by Alfred J. Englehorn. Additional source material came from Alfred J. Englehorn's research and correspondence with German researchers who had access to documents and records in the Badischen-Landes-Archive, Karlsruhe, and his personal inspections of the church records in Altlussheim, Germany. The genealogy in the United States is based on census, court, land, and vital records, plus newspaper accounts and voluminous correspondence with relatives by Alfred J. and James A. Englehorn. These sources are documented in The Engelhorn Family book mentioned above and here.
We have also included a few pages devoted to family reunions and a page where we may be contacted or you may just add your comments in our guest book.
For those of you who have copies of The Engelhorn Family (known as the Blue Book), we have added a page to our site containing corrections and up-dates to family information. Click to see up-dates.


Historic Barn built by Johannes Engelhorn (1822-1884) in about 1860 on his farm near Lansing, Iowa. (Click on an image to see a larger version of the picture.)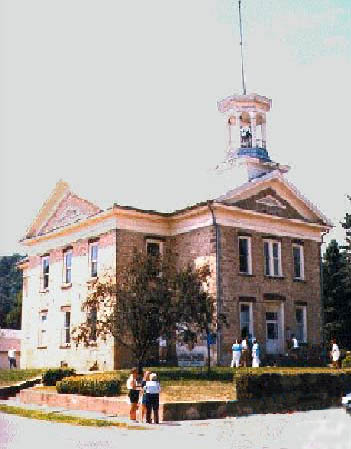 The "Old Stone School" built by Thomas Gottlieb Engelhorn (1827-1907) in 1864 in Lansing, Iowa. The Old Stone School is on the National Register of Historic Places as the longest continuously operating school west of the Mississippi River
How to Use This Web Site
On the left hand side of the page you will see several links to sections of the site.
Family Tree contains detailed family trees starting with Markus, born in 1580. You can trace the family lines from there to the present day. We have 9 generations in Germany and three generations for each of the five families that came to America.
Ancestor Album has a number of old photos of family members.
Family Reunions has photos and reports from each of our gatherings. (You should join us at the next one!)
The other sections should be self explanatory.